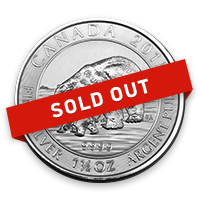 Silver Polar Bear & Cub
1 1/2oz
Qty

Cash

Price *

Credit Card

Price *
1 - 24

Call for Pricing

Call for Pricing

25 +

Call for Pricing

Call for Pricing
Information
Average Rating

5 Stars

Like this Coin
* Web Price Only. Online pricing is quoted in Real-time. Your price is set at moment purchase is finalized. Dates of coins cannot be chosen. Dates are determined by available stock, at the discretion of Metal Exchange staff.


Prefer a Live Person?
1-800-844-3142
Speak To A Live Representative Now.
Produced by the Royal Canadian Mint, a world-class provider of branded investment products as well as circulation and non-circulation coins, Lear Capital (www.learcapital.com) introduces the Silver Polar Bear & Cub coin, a 1.5 ounce coin honoring the Polar Bear & Cub. The Silver Polar Bear & Cub coin is 99.99% silver and its pure content makes it suitable for IRA investment. The addition of silver to your IRA account not only provides portfolio diversification but a critical hedge against depreciating paper currencies, stocks and bonds.

Limited Time Bonus
Each purchase from The Metal Exchange comes with a complimentary copy of Precious Metals Profit Strategies, a $79 value. In this report we share with you relevant buy and sell strategies used by professionals to maximize their profit potential in precious metals.