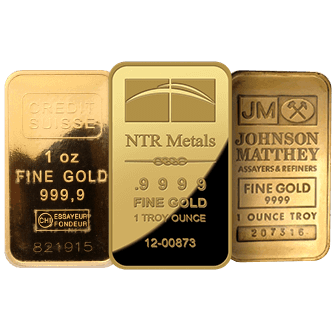 Gold Bar 1 Oz (Random Mint)
1oz
Qty

Cash

Price *

Credit Card

Price *
1 - 9

Call for Pricing

Call for Pricing

10 +

Call for Pricing

Call for Pricing
Information
Average Rating

5 Stars

Like this Bar
* Web Price Only. Online pricing is quoted in Real-time. Your price is set at moment purchase is finalized. Dates of coins cannot be chosen. Dates are determined by available stock, at the discretion of Metal Exchange staff.


Prefer a Live Person?
1-800-844-3142
Speak To A Live Representative Now.
One ounce bars are an easy and popular way to invest in Precious Metals. We only sell bars from reputable manufacturers, whose mints are approved by the United States Government ensuring the quality of this Gold bar. We stock and ship Credit Suisse, Pamp Suisse, Johnson Matthey, Perth Mint and Engelhard 1 ounce bars.

Limited Time Bonus
Each purchase from The Metal Exchange comes with a complimentary copy of Precious Metals Profit Strategies, a $79 value. In this report we share with you relevant buy and sell strategies used by professionals to maximize their profit potential in precious metals.