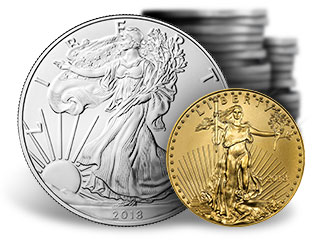 $897 Portfolio
Pricing *
Portfolio Includes:
1/4oz Gold American Eagle
(1x) ,
1oz Silver American Eagle
(27x)
Information
Average Rating

5 Stars

Like this Portfolio
* Web Price Only. Online pricing is quoted in Real-time. Your price is set at moment purchase is finalized. Dates of coins cannot be chosen. Dates are determined by available stock, at the discretion of Metal Exchange staff.


Prefer a Live Person?
1-800-844-3142
Speak To A Live Representative Now.
Ready to take a serious position in precious metals in order to benefit from the fallout of a falling dollar? The Primed For Gains Investor package is targeted towards the sophisticated investor that understands how money works. With nearly 30 ounces of .999 Silver American Eagles and One Gold American in Eagle ($10) face value 1/4 of an ounce of investment grade gold, this offering is reserved for serious metals investors ready to set up an alternative investment portfolio that is liquid and stored privately wherever you choose.