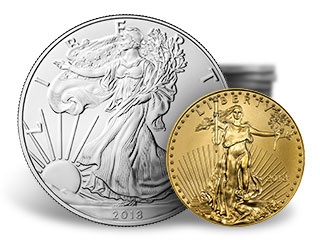 $297 Portfolio
Pricing *
Portfolio Includes:
1/10oz Gold American Eagle
(1x) ,
1oz Silver American Eagle
(7x)
Information
Average Rating

5 Stars

Like this Portfolio
* Web Price Only. Online pricing is quoted in Real-time. Your price is set at moment purchase is finalized. Dates of coins cannot be chosen. Dates are determined by available stock, at the discretion of Metal Exchange staff.


Prefer a Live Person?
1-800-844-3142
Speak To A Live Representative Now.
New to precious metals investing or looking for a mature and responsible gift for that important loved one? The Early Exposure Package is ideal. With nearly 7 ounces of .999 Silver American Eagles and a Gold American in Eagle ($5) face value and 1/10 of an ounce of investment grade gold, this offering is a great way to ease into precious metals investment.